Latest Issue
Visitors Counter
| | | |
| --- | --- | --- |
| | Today | 145 |
| | Yesterday | 288 |
| | This_Week | 834 |
| | This_Month | 145 |
| | All_Days | 134286 |
Home
e-ETMR
is an electronic version of the Economic and Technology Management Review, a technical bulletin published by the Malaysian Agricultural Research and Development Institute (MARDI). This bulletin contains technical articles in social science, covering agricultural, resource and environmental economics, agribusiness and marketing, business management,technology management and policy studies. It publishes the latest research in social sciences by research scientists and academicians from research institutions and universities, and aims to be an international forum for all scholars to share their research findings and knowledge for the benefit of society. All articles are reviewed by subject matter experts to ensure originality, relevance and quality.

Economic and Technology Management Review is now published in English and it is open for submission by authors from all over the world. It is currently published 2 times a year, in July and December.

Economic and Technology Management Review is now over 13 years old; this accumulated knowledge has resulted in the journal being abstracted and indexed in  Google Scholar, and MyCite.
---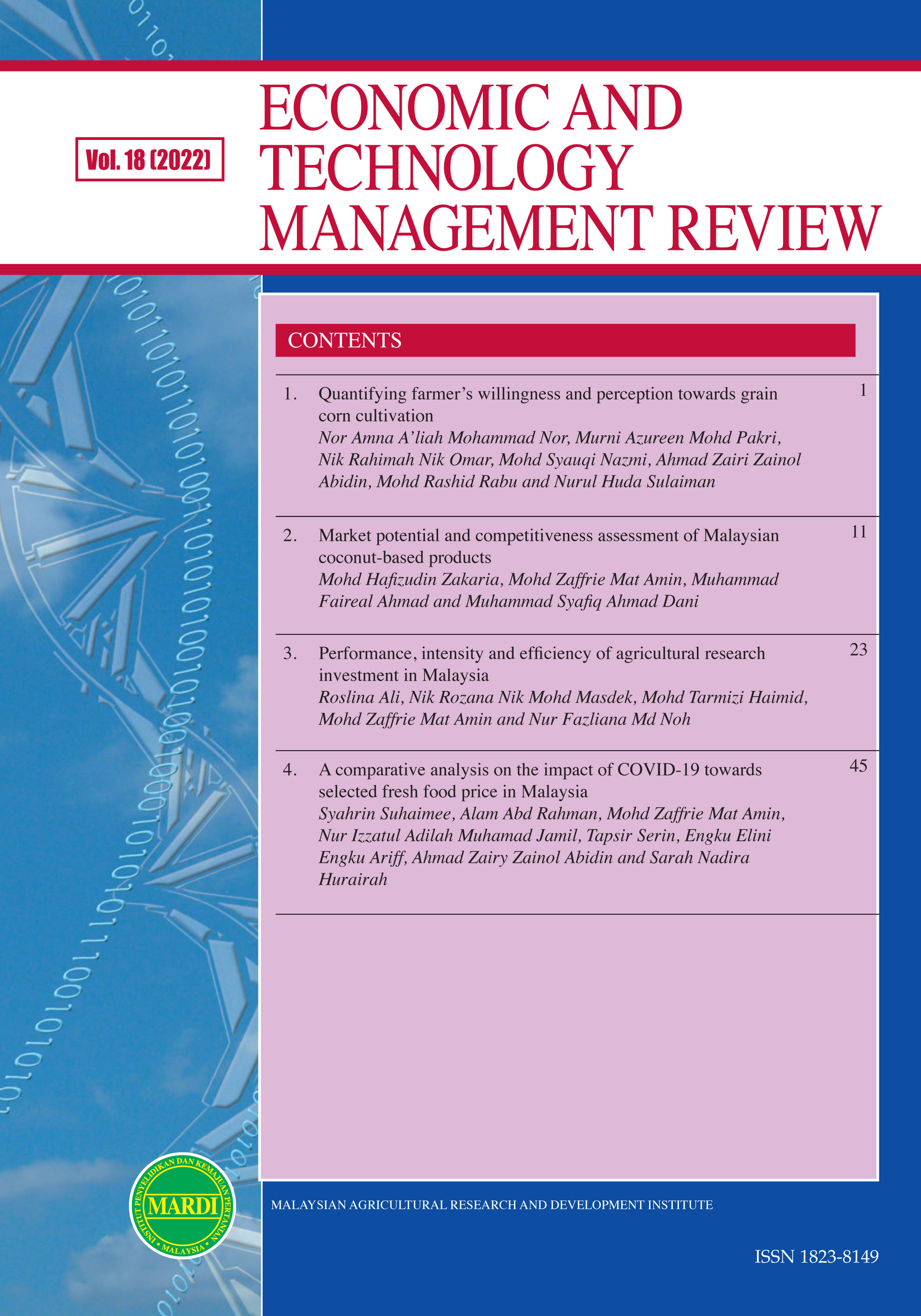 Economic and Technology Management Review Vol. 18 (2022)
  • 2022 • ISSN 1823-8149 •
Editorial board Vol 18 (2022)
1. Mohd Rashid Rabu -Chairman
 2. Engku Elini Engku Ariff (Dr.)
 3. Syahrin Suhaimee (Dr.)
 4. Roslina Ali (Dr.)
 5. Hairazi Rahim @ Abdul Rahim (Dr.)
 6. Norzalila Kasron (Dr.)
 7. Mohd Nizam Mohd Nizat
 8. Aimi Athirah Ahmad – Secretary
 9. Hazida Syima Hamazah
List of Reviewers Vol 18 (2022)
1. Tapsir Serin
 2. Omid Kharazmi  (Dr.) (University of Stirling)
 3. Nitty Hirawaty Kamarulzaman (Assoc. Prof.) (UPM)
 4. Humaida Banu Samsuddin (Dr.) (UKM)
 5. Keshminder Singh (Assoc. Prof.) (UiTM)
 6. Nurul Nadia Ramli (Dr.) (UPM)
 7. Norsida Man (Assoc. Prof.) (UPM)
 8. Mohd Hizam Hanafiah (Assoc. Prof.) (UKM)
 9. Siti Rohani Mohd Nor (Dr.) (UTM)
TABLE OF CONTENT
---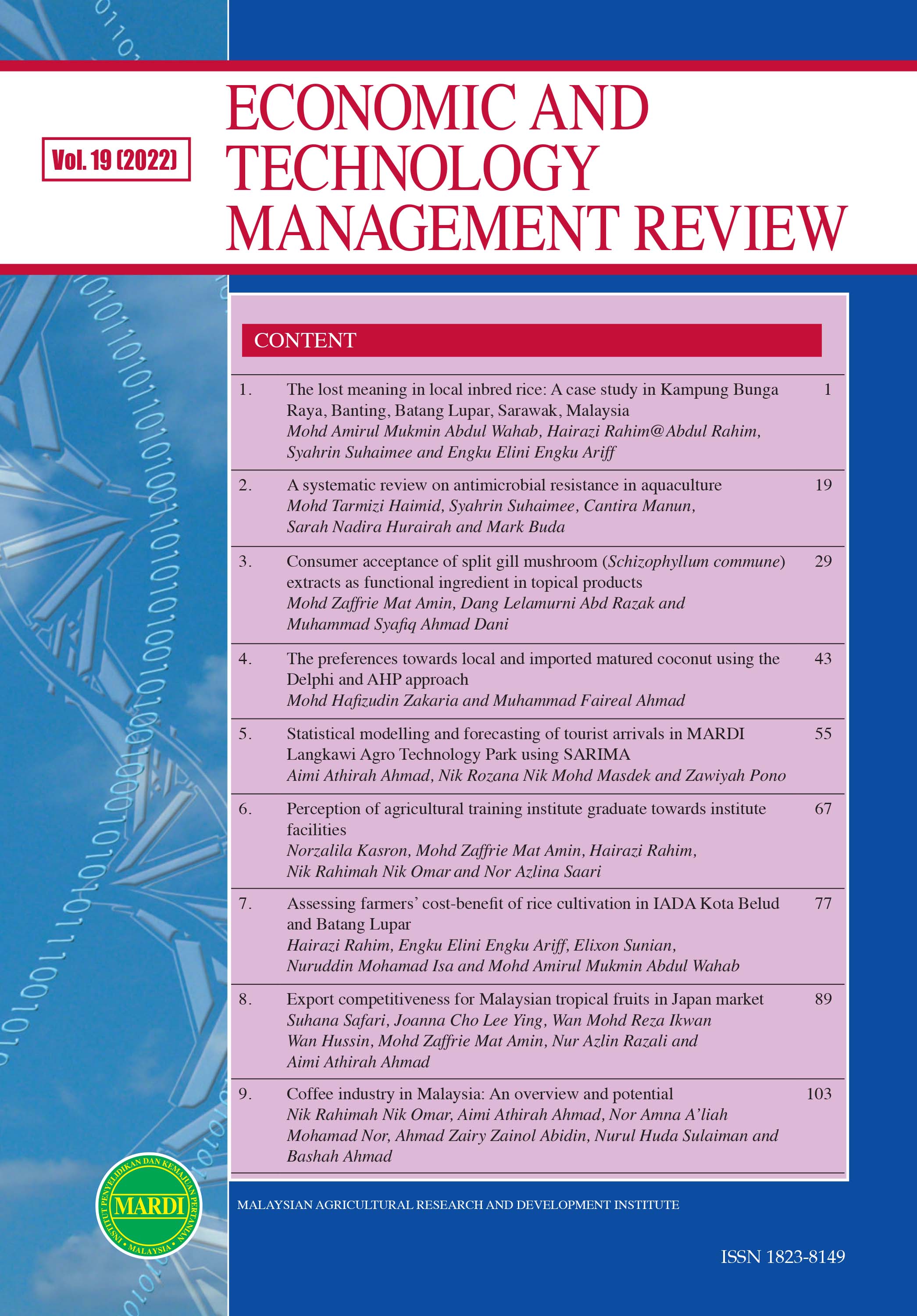 Economic and Technology Management Review Vol. 19 (2022)
  • 2022 • ISSN 1823-8149 •
 Editorial board Vol 19 (2022)
1. Mohd Rashid Rabu -Chairman
 2. Engku Elini Engku Ariff (Dr.)
 3. Syahrin Suhaimee (Dr.)
 4. Roslina Ali (Dr.)
 5. Hairazi Rahim @ Abdul Rahim (Dr.)
 6. Norzalila Kasron (Dr.)
 7. Mohd Nizam Mohd Nizat
 8. Aimi Athirah Ahmad – Secretary
 9. Hazida Syima Hamazah
List of Reviewers Vol 19 (2022)
1. Dr Norshamliza Chamhuri (UKM)
2. Assoc. Prof. Dr. Nitty Hirawaty Kamarulzaman (UPM)
3. Dr. Ahmad Hanis Izani Abdul Hadi (UPM)
4. Hj. Tapsir Serin
5. Dr. Khauthar Ismail (USM)
6. Dr. Mohamad Fauzi Sukimi (UKM)
7. Dr. Amiraa (OUM)
8. Dr. Rozhan Abu Dardak
9. Dr. Humaida Banu (UKM)
10. Prof. Dr. Norsida Man
11. Ts. Dr. Mohd Talmizie Amron (UiTM)
12. Dr. Azila Abdullah (NaFish)
13. Dr. Mohammad Tamrin bin Mohamad Lal (UMS)
TABLE OF CONTENT